Best Budget Ebike: HappyRun Tank G60 People's Review
Electric bikes are gaining popularity for their versatility and eco-friendly nature. One intriguing option on the market is the Happyrun G60 SUV Ebike. Designed for both off-road adventures and daily commuting, the G60 pedal electric bike comes packed with impressive features.
In this blog post, we will delve into the key characteristics of the Tank G60 and gather insights from three YouTube reviews to help you decide if this electric bike cruiser is the right choice for your needs.
What Is The Best E-Bike For The Money?
The Tank G60 is considered one of the best budget ebikes available in the market today. Designed to cater to both adventurous off-road riders and urban commuters, the G60 stands as an excellent choice. Its unique design has sparked the interest of many, making it a prime candidate for a closer look.
Here are some key characteristics of the G60 that you must know about:
Powerful motor for thrilling rides: The G60 pedal electric bike is equipped with a high-performance 1500W (rated power: 750W) brushless motor, which can reach a top speed of 31 MPH. This motor ensures that your rides are both efficient and exhilarating.
Comfortable and lightweight design: The combination of strong, lightweight aluminum alloy material and a fork suspension system provides a smooth and comfortable riding experience. The lightweight frame enhances maneuverability and control on all terrains, making it suitable for off-road adventures while reducing overall weight.
Hydraulic brakes for superior control: The G60 features hydraulic brakes that enhance overall stability, control, and comfort. These brakes make the bike suitable for a wide range of terrains and challenging conditions, providing peace of mind during your rides.
Impressive battery range: The electric bike cruiser comes with a removable 48V 18AH battery that offers a remarkable range of 68 miles with pedal assistance on a single 5-6 hour charge. This allows you to enjoy long rides without worrying about battery life.
Pedal Electric Bike Reviews
To provide you with a well-rounded perspective on the Happyrun G60 SUV Ebike, we've scoured the world of YouTube for insights from seasoned reviewers and electric bike enthusiasts.
These hands-on experiences and first impressions offer invaluable insights into the G60's real-world performance and design. Join us as we explore the ebike through the eyes of three distinct reviewers, each bringing their unique viewpoints and expertise to the table.
1. Electric Vehicles Space
"We review and test all-size electric vehicles and share news about new upcoming tech!"
Upon receiving the Happyrun G60 SUV Ebike, you'll find the packaging immaculate, exuding quality and care. The bike itself boasts an unconventional design with sturdy, thick tubing that's visually striking. As you inspect the bike further, the unique squared seat shape catches your eye, promising a comfortable ride.
The tires, adorned with brown accents that match the saddle, offer a cohesive and visually appealing look. The suspension system, a true game-changer, is adjustable, allowing you to fine-tune your ride's comfort based on your height. Out in the daylight, the display is not only functional but easily legible, ensuring you have all the vital information at a glance.
The compact yet brilliantly bright light adds a layer of security to your nighttime rides. When you test the horn, its loudness provides a sense of authority on the road, bolstering your safety. As you assess the overall components, you discover that the G60 pedal electric bike boasts a well-thought-out package that punches above its price point.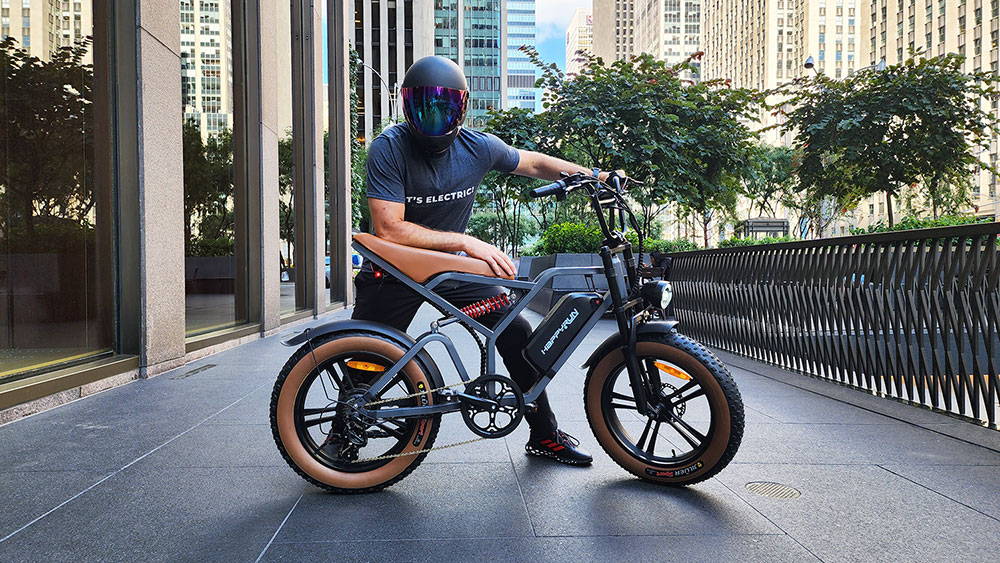 HappyRun Electric Bike Tank G60
The design, with its contrasting paint, matching tires, and a cool seat, creates an electric bike that's as stylish as it is functional. While there are a few minor suggestions for improvement, you can't help but feel that this is a fantastic deal, offering a unique and well-put-together e-bike experience.
"We review and test all-size electric vehicles and share news about new upcoming tech!"
As you lay your eyes on the Happyrun G60 SUV Ebike, you'll be struck by the sheer pristine quality of the packaging, setting the stage for what's to come. The bike's design, with its unusual and striking features, demands your attention. Those brown-accented tires that match the saddle are not just a visual treat but a testament to the bike's attention to detail.
You'll quickly notice the suspension's influence on your ride, making a substantial difference in comfort and control. A closer look reveals impeccable cable management, with all cables neatly tucked into the frame, providing a clean and sophisticated appearance.
The G60's motor plays a pivotal role, especially when faced with challenging terrains. Without it, tackling steep hills with the combined weight of the bike and the rider would be an impossible feat. The hydraulic brakes, on the other hand, are precision and strength personified, offering responsiveness that instills confidence.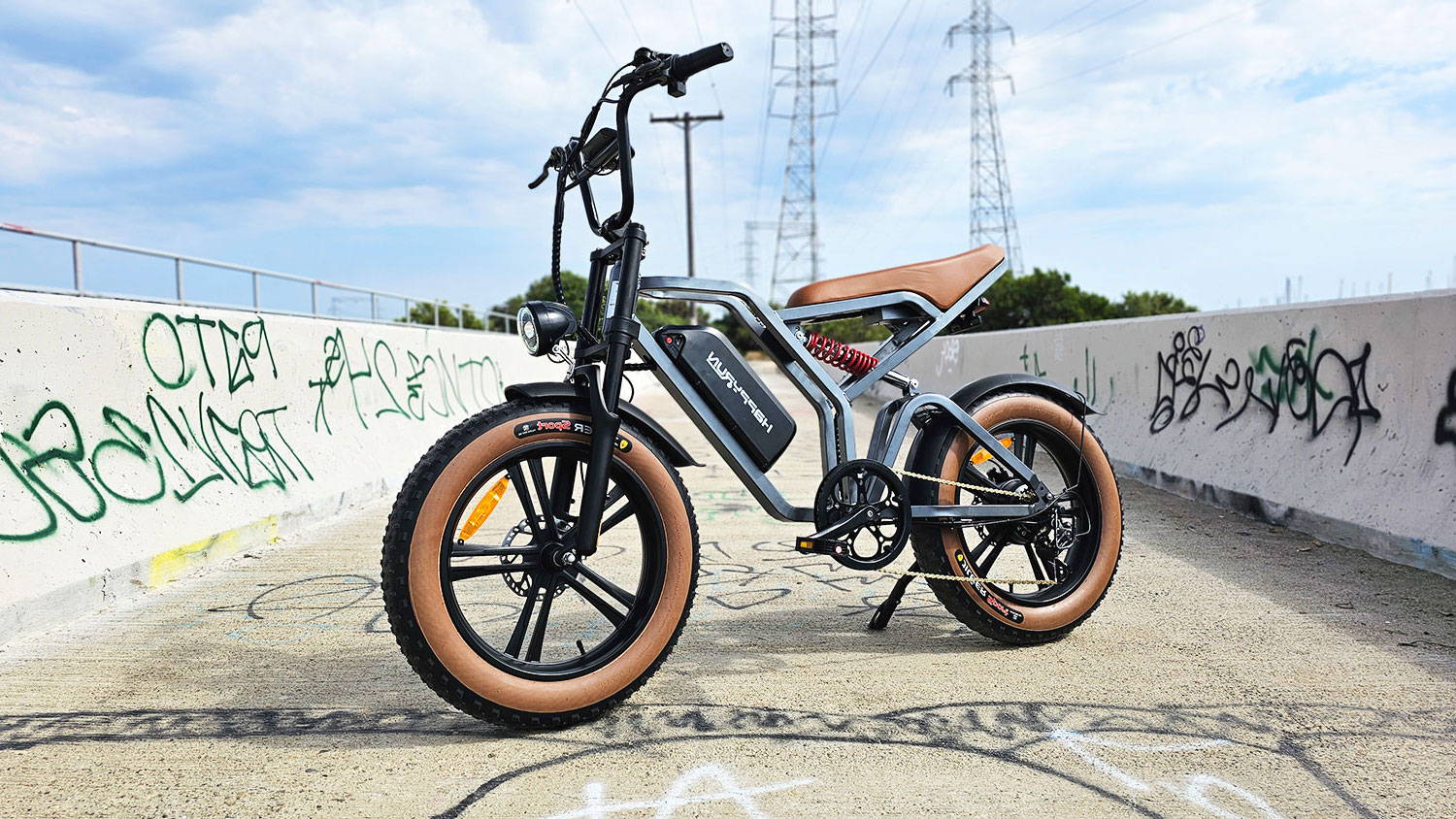 HappyRun Electric Bike Tank G60 By JoelsterG4K
The suspension's performance is magical, providing the freedom to explore various terrains, whether it's off-road adventures or navigating urban streets. An overall review leaves you amazed at the value proposition the G60 presents.
For less than two thousand dollars, you receive a package that includes hydraulic brakes, stunning tires, full suspension, key-based security, a large display, and a sleek design. It's a compelling offering that leaves a lasting impression.
3. Fresh and Felicia Product Reviews
"Fresh and Felicia have branched out into reviews of interesting and fun things that make life better"
In Fresh and Felicia's review, the Happyrun G60 SUV Ebike is presented as a striking machine that immediately conjures images of a motorcycle. The ebike's aesthetics have a unique quality that sets it apart from the ordinary.
However, the detailed aspects of the review are more concise, with the reviewer expressing love for the G60 tank. This succinct review captures the essence of the G60's visual appeal, portraying it as an excellent bike without diving deeply into specific technical details. It leaves you with the impression of a stylish and remarkable electric bike, perfect for those who appreciate distinctive design.
Which Is The Best Electric Bicycle Company In 2023?
After taking a look at the pedal electric bike reviews from above, people agree that HappyRun is positioning itself as the best electric bicycle company in 2023.
Offering the best budget ebikes available on the market, made with durable materials and with user-friendly features, HappyRun is rapidly becoming a go-to choice for new and advanced riders.
Choosing a quality ebike takes time, and there are plenty of things to consider before running to a store. HappyRun makes the process simpler, offering a top-class customer support team ready to help you with anything you need, as well as exclusive deals that you can't miss out on.
The HappyRun G60 SUV pedal electric bike offers a compelling package for both off-road enthusiasts and daily commuters. With its powerful motor, comfortable design, hydraulic brakes, impressive battery range, and unique style, it's gaining the attention of riders and reviewers alike.
While each reviewer had their own specific highlights and suggestions for improvements, the consensus is that the G60 ebike offers excellent value for its price point.
So, if you're looking for a stylish and best-budget ebike with impressive features, the G60 might be the perfect choice for you.