2023's Best-Value Electric Bikes: A Comprehensive Review
The ultimate list of the top electric bikes of 2023 you need to know about
2023 SUV E-BIKE - Photo by HappyRun
In the exciting world of transportation, 2023 is truly the year of the electric bike! With a growing desire for eco-friendly and efficient ways to get around, electric bikes, lovingly referred to as e-bikes, have taken center stage.
They're not just a mode of transport; they're a game-changer for urban commuters, adventure enthusiasts, and everyone in between. Thanks to remarkable advancements in technology and design, this year's electric bike options are more diverse and impressive than ever before.
To make your decision easier, we've put together a friendly guide featuring the best-value electric bikes on the market. No matter if you're in the market for an all-terrain beast, a stylish city cruiser, or a versatile hybrid that can handle a bit of everything, we've got your back.
Our assessment covers essential factors like price, performance, range, design, and, of course, the nitty-gritty specifications that matter most when picking your perfect ride.
Let's dive into the world of electric bikes and help you find your ideal companion on the road!
Top All-Terrain Electric Bikes of 2023
When the road less traveled beckons, all-terrain electric bikes rise to the occasion. These rugged companions are built to conquer any landscape, from rocky mountain trails to sandy beaches. For those who crave adventure, here are our top picks for 2023:
1. HappyRun Tank G50 Electric Motorbike With Full Suspension
The HappyRun Tank G50 Electric Bike With Full Suspension is your trusty companion for conquering all sorts of terrain. It's not just an ordinary ride—it's a force to be reckoned with. Fitted with a potent 1500W motor, this e-bike is a powerhouse designed to deliver unmatched performance on any trail you dare to tackle.
Range: Up to 68+ miles per charge.
Specifications:
The HappyRun Tank electric bike is built for both off-road excitement and city commuting. It's armed with a high-performance 1500W (rated power: 750W) brushless motor capable of propelling you at speeds of up to 30 MPH.
The removable 48V 18AH battery is your ticket to long journeys. With a single 5-6 hour charge, it can cover those impressive 68 miles (with a little help from your pedal power).

The large smart LCD display and 20" × 4" fat tires are more than just good looks. They provide extra protection against pesky punctures from thorns, glass, and all those little obstacles that like to mess with your ride.

The high-performance front fork suspension and seat suspension are your allies against bumps and jolts on the road. They work tirelessly to provide a smoother and more comfortable riding experience.
Crafted with a blend of strength and lightness, the Tank G60 Electric Motor Bike's frame is made from durable aluminum alloy material. Paired with its fork suspension system, it guarantees not only rugged durability but also a remarkably comfortable and smooth ride.

Range: Up to 68+ miles per charge.
The hydraulic brakes on the Tank G60 are your trusty companions for maintaining stability and control. They excel across various terrains and challenging conditions, ensuring your confidence in any riding scenario.

Featuring a removable 48V 18AH battery, the Tank G60 offers an extensive range of 68 miles (with pedal assistance) on a single 5-6 hour charge. Say goodbye to range anxiety and embrace longer adventures.

The large smart LCD display and 20" × 4" fat tires are not just eye-catching; they provide extra protection against pesky punctures from thorns, glass, and other nuisances. This e-bike transforms every ride into a worry-free adventure, whether you're cruising sandy beaches, snowy trails, or intricate terrains.
Hybrid electric bikes are the Swiss Army knives of the cycling world. They're designed to tackle a wide range of terrains, making them perfect for those who want a versatile ride. Here are our top picks for hybrid electric bikes in 2023:
1. MagiCycle Deer Mountain Electric Bike
Range: Up to 80+ miles per charge
Specifications:
The MagiCycle Deer is your trusty steed, equipped with a potent electric motor that delivers ample torque. It's your dependable companion for conquering steep inclines and challenging terrain with ease.
The MagiCycle Deer is the embodiment of a versatile mountain electric bike designed for adventure enthusiasts. With its sleek design and powerful motor, it's ready to tackle both city streets and rugged trails with ease. The step-over frame adds a touch of style to this versatile all-rounder, making it an excellent choice for riders seeking adventure and daily commuting.
Designed to turn heads and withstand the rigors of off-road escapades and daily commutes, the MagiCycle Deer's sleek and stylish frame is more than just eye candy—it's built to last.

Versatility runs deep in the MagiCycle Deer's veins. Whether you're craving the ruggedness of mountain trails or the smoothness of city streets, this e-bike adapts effortlessly. It's the ideal partner for riders with diverse needs and desires.
2. MagiCycle Ocelot Step-Thru Fat Tire Electric Bike
The MagiCycle Ocelot is designed for those who appreciate the extra stability and traction offered by fat tires. Its step-thru frame design adds convenience, making it easy to hop on and off. With a robust motor and thoughtful features, it's a fantastic choice for riders who want to conquer various terrains.
Range: Up to 55 miles per charge
Specifications:
The heart of the MagiCycle Ocelot is its robust electric motor, which is engineered to effortlessly power through steep inclines and conquer challenging terrain. Whether you're navigating hilly city streets or venturing off-road, this motor ensures a seamless and exhilarating riding experience, making each journey a joyous adventure.
The step-thru frame design not only adds convenience by making it easy to mount and dismount but also enhances overall stability and control.

The Ocelot thrives in diverse environments. Whether you're navigating through city traffic, exploring scenic trails, or riding on sandy beaches, this e-bike is up to the task.

Its fat tires are a standout feature, providing superior traction, stability, and comfort. They can tackle a variety of surfaces with ease, ensuring a confident and smooth ride.
Best-Value City Commuter Electric Bikes
For those navigating the bustling streets of the city, city commuter electric bikes are the perfect companions. These bikes are designed for efficiency, style, and ease of use. Here are our top picks for city commuter electric bikes in 2023:
1. Mokwheel Asphalt ST City Commuter Electric Bike
The Mokwheel Asphalt ST is designed for city commuters seeking a sleek and efficient ride. Its lightweight frame and agile design make it perfect for weaving through urban traffic. With a powerful electric motor, you can effortlessly conquer hills and long commutes.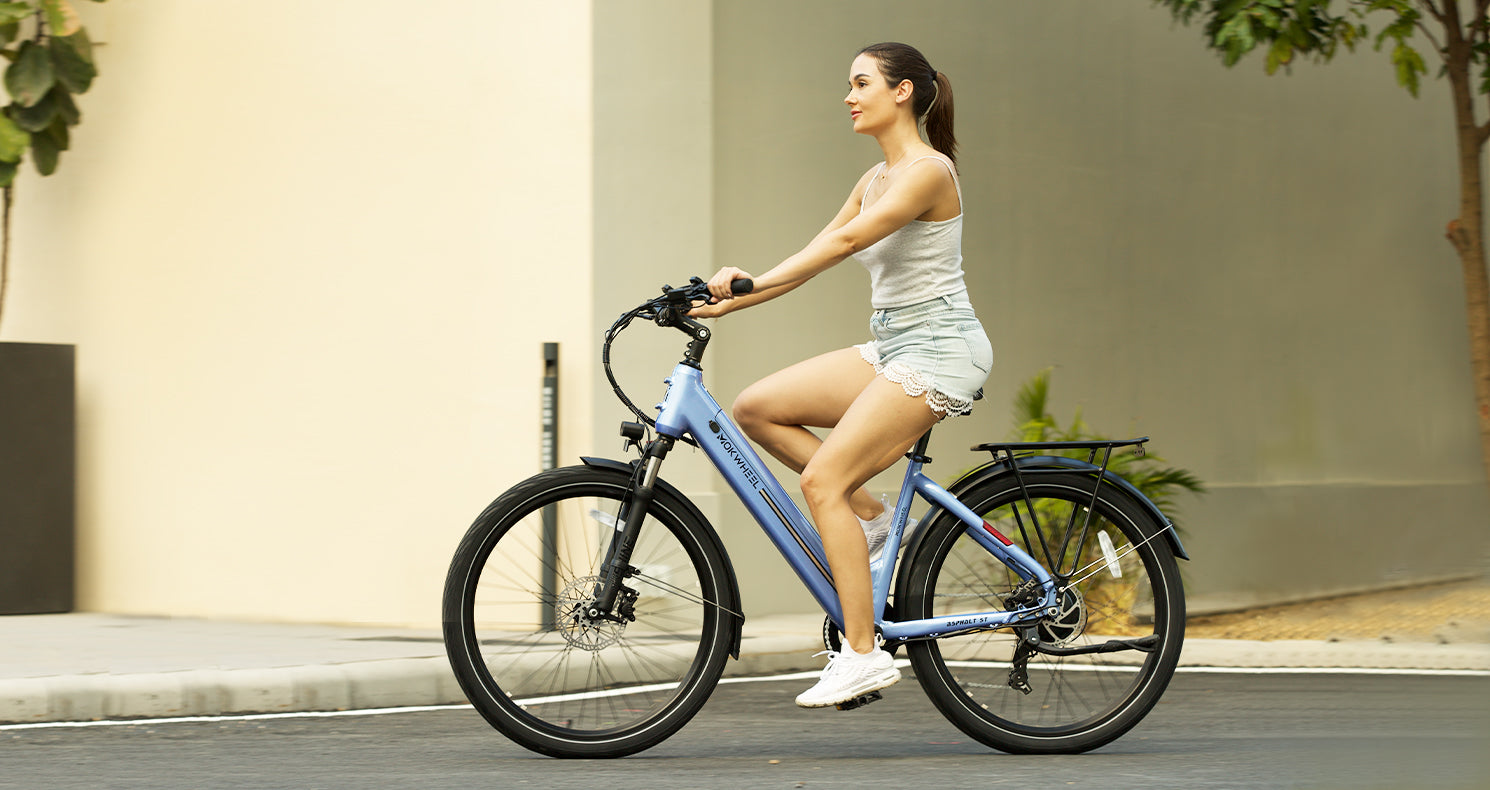 Step Through Electric Bike
Range: Up to 60 miles per charge
Specifications:
The Mokwheel Asphalt ST boasts a powerful electric motor that effortlessly propels you through city traffic and conquers hills with ease.
Its lightweight and sleek frame design not only makes it a breeze to maneuver through tight spaces but also ensures durability and longevity.

Designed for urban exploration, the Asphalt ST shines on city streets, offering nimble handling and responsive control.
2. Mokwheel Mesa Plus ST City Commuter Electric Bike
The Mokwheel Mesa Plus ST is a step above the rest. With its premium features and sleek design, it's the epitome of city commuting luxury. The powerful electric motor ensures you arrive at your destination quickly and comfortably.
Range: Up to 55 miles per charge
Specifications:
The Mokwheel Mesa Plus ST takes city commuting to a whole new level with its premium features and stylish design. This electric bike offers both comfort and performance, making it the ideal choice for riders who demand the best of both worlds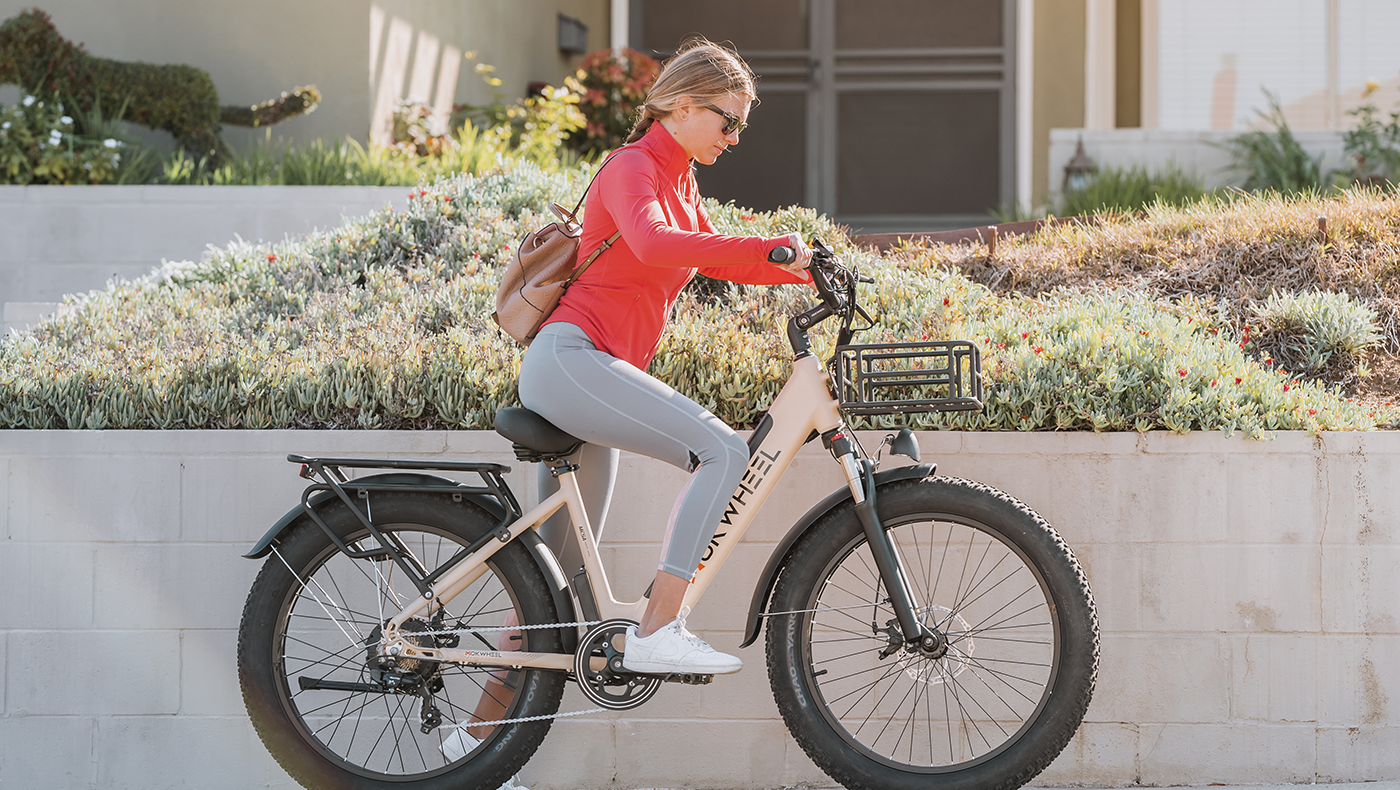 With its step-thru frame design, the Mesa Plus ST offers ease of mounting and dismounting without compromising on style.

This e-bike excels on city streets, providing a comfortable and enjoyable ride for daily commuters and urban explorers.
Selecting the best-value electric bike for your needs involves considering several key aspects. Here are some important factors to keep in mind when making your decision:
Begin by establishing a budget that aligns with your financial comfort. Electric bike prices can vary significantly, so it's essential to find a bike that meets your requirements without breaking the bank.

Determine how far you plan to ride on a single charge. For daily commuters, a longer range may be preferable, while occasional riders may not require as much battery capacity. Ensure that the electric bike's range matches your typical riding distance.

Pay attention to the materials used in the construction of the bike's frame, wheels, and components. Lightweight and durable materials can enhance your riding experience and the longevity of the e-bike.

Consider the types of terrain you'll encounter most frequently. If you'll be riding on city streets, a sleek and nimble city commuter e-bike may be ideal. For off-road adventures, an all-terrain or mountain e-bike with sturdy tires and suspension may be a better fit.

The power of the electric motor significantly affects your riding experience. A more potent motor can effortlessly conquer hills and rough terrain, while a less powerful one may be sufficient for city commuting.

Reading customer reviews and testimonials can provide valuable insights into real-world experiences with the electric bike you're considering. It's an excellent way to gauge user satisfaction and potential drawbacks.
By carefully evaluating these factors and aligning them with your specific needs and preferences, you can confidently choose the best-value electric bike that enhances your riding adventures and daily commutes. Remember that the ideal electric bike is one that seamlessly integrates into your lifestyle, providing both enjoyment and practicality.