Happyrun G60 (Tank) E-Bike Review
Review by electric-biking
@Ruaan
Electric bikes have become increasingly popular in recent years due to their sustainability, cost-effectiveness, and convenience. Happy Run Sports a new kid on the block (at least when it comes to e-bike manufacturing) are taking advantage of this ever increasing demand for e-bikes, by bringing us the G60 fat tire ebike.
The G60 SUV Ebike is a top-of-the-line e-bike that is designed to handle all kinds of terrains, making it perfect for off-road adventures and daily commuting.
This blog post will explore the design and features of the G60 SUV Ebike, its off-road performance, commuting experience, and sustainability and cost-effectiveness.
By the end of this post, you will have a better understanding of what makes the G60 tick and where it fits into our list of top fat tire e-bikes.
Happyrun Electric Bike G60 packaging
Overall this bike was easy to assemble, After looking over the manual, it should take you roughly an hour to assemble. A lot of parts were already put together and it was just connecting a few pieces for completion. I liked the limited usage of tools and Allen keys.
Compared to other bikes, the number of tools needing to be used was significantly less. I've broken the assembly part into the good, the bad (and not the ugly, the bike looks pretty cool) below.
Front Tire / Disk Brake – After getting the disk brake assembled, attaching the wheel to the frame was very simple. The brake fit right into where it was supposed to and all you needed to do was tighten the bolts and you were set. (A+ for the G60 here)
Suspension – The bike folds in half and all you have to do is line up the suspension to the designated holes and tight screws.
Electronics – As you put the pieces together, the electrical ports were where they were supposed to be and connected easily.
Front Fender – This part would not attach without a struggle. The brackets that were supposed to go around the frame were a little small and I had to struggle to bend them to fit.
The Manual – There were parts of the manual that were dated to other bikes. The front wheel assembly was very simple, but I couldn't find the springs the manual was telling me I needed to put the wheel together. This bike didn't have springs on the axle, so it took me longer than it should have.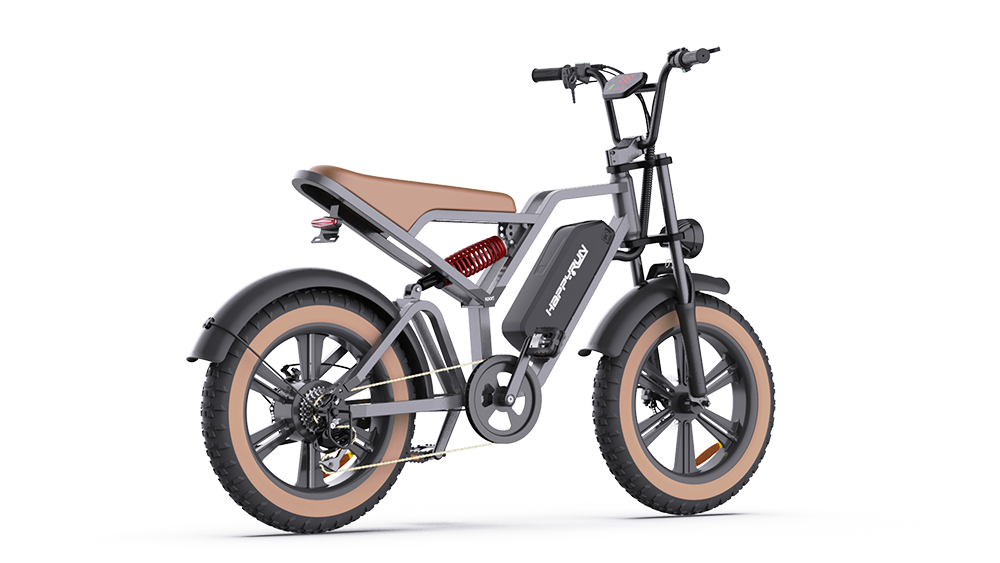 The G60 SUV Ebike comes equipped with a 750W brushless motor that gives it a top speed of 28mph. The frame is made of aluminum alloy, which makes the bike lightweight and maneuverable.
The suspension fork system ensures a comfortable ride on all kinds of terrains. The hydraulic brakes provide stability and control, even at high speeds. The battery is removable and has a range of up to 60 miles, making it perfect for long-distance rides. The fat tires provide puncture protection and improve stability. The LCD shows all the important information you need, like speed, distance, and battery life.
SUV Ebike G60 Riding in The City Road
The G60 SUV Ebike is perfect for daily commuting, thanks to its long-range battery and comfortable ride. It's also much more cost-effective than cars and public transportation.
This E-Bike's ride is extremely smooth and comfortable, You feel little to no bumps in the road. The fat tires and suspension under the seat I feel are a big proponent of that.
The wide-style tires seem to just glide over the street. The turn radius on the bike is great, and all the functions with the electronics are easy to use. The front light is very bright and the turn signals work great.
Boy does this bike have some power. Before getting to that power, the pedal assist allows you to do as you please. Level 1 – Level 3 gives you a fair shake for what you're looking for, from a nice burn in the legs to just a cruise down the road with little resistance.
Now the extra throttle power is where this bike leaps over others. If you find yourself on a steep hill or have to come to a stop, it gives you the get-up to get going again or get up the hill without adding any extra leg work. Building speed and cruising at 20-25 MPH if not more
The G60 is designed to handle all kinds of terrains, from off-road trails to city bike lanes. The suspension system and fat tires make it easy to navigate over rough terrain. Users have raved about its performance on mountains, dirt trails, and even dunes.
It outperforms other e-bikes in its class, making it the perfect choice for off-road adventures.
After a full charge, I've ridden about 20/25 miles and I'm sitting at 60% charge which aligns with the 68-mile range it says it has. I'd also like to note that I'm probably using much more power while trying to get used to the bike, so I'd say the G60's range has exceeded expectations, especially considering it being a
fat tire electric bike
.
Sustainability and Cost-Effectiveness
The G60 SUV Ebike is not only a fun and powerful e-bike, but it also has a positive impact on the environment. E-bikes are much more sustainable than cars and public transportation, emitting much less CO2 and using fewer resources. The G60 is also cost-effective in the long run, as it requires less maintenance and is much cheaper than cars and public transportation over time.
In conclusion, the G60 SUV Ebike comes close to being the ultimate off-road and commuting e-bike, at least in its price-range. Its powerful motor, comfortable suspension system, long-range battery, and fat tires make it perfect for all kinds of terrains. It's also cost-effective and environmentally friendly, making it the perfect choice for those who want to reduce their carbon footprint and save money on transportation. If you're looking for a powerful and versatile e-bike, look no further than the G60.
The G60 Ebike is a versatile e-bike that is perfect for those who want a powerful and comfortable vehicle for off-road adventures and daily commuting.